MF11 _ MF12 temperature compensation thermistor
With the development of electronic information, automatic control, home appliances and transportation and other fields. BaTi O_3-based PTC ceramics have been widely used as one of the important application fields of ferroelectric ceramics, and the market demand is increasing day by day. Aiming at the current vacancy of low room temperature resistivity and low temperature coefficient of temperature coefficient of positive temperature coefficient. The company has studied BaTiO_3-based PTC ceramics for compensating negative temperature coefficient components. In this paper, BaTiO_3 based thermosensitive ceramics (with the addition of Sr as the peak shifting agent at 40mol%) were prepared by solid-phase method. The effects of synthesis temperature, sintering temperature, acceptor doping, donor doping, barium-titanium ratio, and AST on the microstructure and electrical properties of the samples were studied. Through process and formulation optimization, a PTC thermosensitive material for low-resistance temperature compensation with a resistivity at room temperature of 590Ω? Cm and a temperature coefficient of resistance in the range of -20 ° C to 80 ° C ranging from 2.11% to 2.72% was prepared. In this paper, the effects of synthesis temperature and sintering temperature on the properties of BaTi O_3 based ceramics were first studied. The experimental results show that when the synthetic firing temperature is 1150 ° C and the sintering temperature is 1340 ° C, the sample grain size distribution is uniform, the ceramic body has a high density, the room temperature resistivity is the lowest, the resistance temperature coefficient is small, and the resistance temperature characteristic curve is highly linear . Based on the optimal sintering system, this paper studies the effect of the acceptor additive Mn (NO_3) _2, which is commonly used in ceramic PTC materials, on the properties of BaTiO_3-based ceramics. The experimental results show that as the acceptor content increases, the room temperature of the sample Resistivity and temperature coefficient of resistance increased significantly. Based on the target performance of this topic, the performance of samples without acceptor ion is better. On the basis of the above experiments, the effects of donor Y_2O_3 and Nb_2O_5 doping on the properties of BaTi O_3 based ceramics were studied.



1. Applications:
For general accuracy of temperature measurement and in the measurement of equipment,
Temperature Compensation in Transistor Circuits.
2. Features:
MF11: B value of the error range is small,
For resistance error range of 5% of the product,
Its consistency, good interchangeability.
MF12: wide range of resistance,
The maximum nominal resistance of up to 2M, good stability.
3. Exterior structure and size: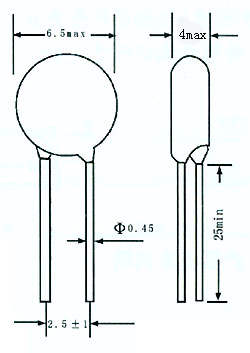 Temperature compensation type - lower power consumption curve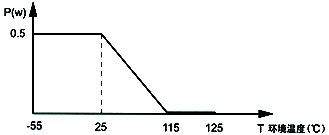 The main technical parameters
specification

Rated zero power resistance

Maximum steady - state current

Residual resistance at maximum steady state current

B25/85

B25/50

Thermal time constant

Dissipation
factor
Operating
temperature
range
Measuring
power
rated
power

Resistance range

R25℃(Ω)

Deviation

(%)

@25℃(A)

R25℃(Ω)

K

Nominal value

(K)

Nominal value

(%)

S

mW/℃

℃

mW

mW

MF11

3.3~33

±5 ±10 ±20

2700

±5

≤30

≥6.0

-55~+125

≤0.5

500

MF11

6.8~68

±5 ±10 ±20

2830

±5

≤30

≥6.0

-55~+125

≤0.5

500

MF11

15~150

±5 ±10 ±20

2950

±5

≤30

≥6.0

-55~+125

≤0.5

500

MF11

33~330

±5 ±10 ±20

3100

±5

≤30

≥6.0

-55~+125

≤0.5

500

MF11

68~680

±5 ±10 ±20

3250

±5

≤30

≥6.0

-55~+125

≤0.5

500

MF11

150~1500

±5 ±10 ±20

3400

±5

≤30

≥6.0

-55~+125

≤0.5

500

MF11

330~3300

±5 ±10 ±20

3570

±5

≤30

≥6.0

-55~+125

≤0.5

500

MF11

680~6800

±5 ±10 ±20

3740

±5

≤30

≥6.0

-55~+125

≤0.5

500

MF11

1500~15000

±5 ±10 ±20

3900

±5

≤30

≥6.0

-55~+125

≤0.5

500

MF11

3300~33000

±5 ±10 ±20

4050

±5

≤30

≥6.0

-55~+125

≤0.5

500

MF12

6800~68000

±5 ±10 ±20

4250

±5

≤30

≥6.0

-55~+125

≤0.5

500

MF12

15000~150000

±5 ±10 ±20

4450

±5

≤30

≥6.0

-55~+125

≤0.5

500

MF12

33000~330000

±5 ±10 ±20

4670

±5

≤30

≥6.0

-55~+125

≤0.5

500

MF12

68000~680000

±5 ±10 ±20

4800

±5

≤30

≥6.0

-55~+125

≤0.5

500

MF12

150000~5000000

±5 ±10 ±20

5050

±5

≤30

≥6.0

-55~+125

≤0.5

500
Note: Models not listed can be customized