What is composite thermistor, overcurrent | overvoltage protector?
Composite thermistor is a combination of thermal coupling, The VDR varistor and PTC thermistor close to and packaged into one. Its main application in power meters and other power supply in the switching power supply and transformer primary At the same time to achieve the current, voltage integrated protection. Which solves the difficulty of using a single PTC thermistor in matching with the transformer. Over-voltage over-current state of the PTC thermistor protection instrument can not work properly, And cryogenic instrumentation exception PTC may not be protected And so on.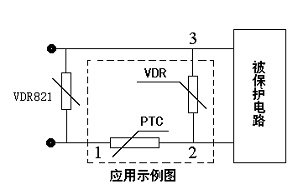 Pin description: 1,2 feet between the thermistor;
2,3 feet between the varistor;
2 feet are pressure sensitive, heat sensitive common.
Connection: 1 foot input; 2 feet output; 3 feet connected to the zero line.

When the varistor absorbs the energy when there is a large temperature rise,Due to thermal coupling, PTC thermistor temperature will rise, Plus it itself will be due to the increase in current and heat, When the temperature reaches the PTC thermistor switch temperature, Its resistance jumped,
Current drastically reduced, While its voltage drop on the increase a lot, Varistor voltage drop across the two, Only a small leakage current passes.So that the voltage of the protected circuit is reduced to the normal operating voltage range, The power meter is working properly.
Composite thermistor commonly used models
Curie
temperature

action
Current
(25℃)
Not action
Current
(60℃)
Pressure sensitive
Voltage
(25℃)
Rated
Maximum work
Voltage
Dimensions
Tc(℃)
It(mA)
Ih(mA)
V(V)
Vmax(V)
Dmax
Hmax
SPMZ11-08E300-600R/14D121
115±7
200
60
120
65
16
10
SPMZ11-08E400-800R/14D181
115±7
200
50
180
120
16
10
SPMZ11-10E300-500R/14D181
115±7
250
70
180
120
16
10
SPMZ11-06E201-401R/10D391
85±7
80
20
390
265
12
10
SPMZ11-06E151-251R/10D391
115±7
100
25
390
265
12
10
SPMZ11-08E600-121R/12D391
115±7
180
40
390
265
14
10
SPMZ11-10E300-500R/14D391
115±7
250
90
390
265
16
10
SPMZ11-10E400-800R/14D491
115±7
220
70
390
330
16
10
SPMZ11-16E200-300R/20D391
115±7
450
130
390
265
22
12